The Trimble X7 design is unique in both form and function, integrating a survey-grade servo drive with high-speed scanning, automatic self-leveling and an integrated camera system to deliver exceptional reliability and productivity in the field.
Trimble X7 Laser Scanner Features
The Trimble X7 is a high-speed 3D laser scanning system with new innovations to simplify adoption, increase efficiency and provide confidence in the field. Features and benefits include:
In-field registration
Image capture
Full auto-calibration of range and angular systems with no necessary user interaction
2 Year standard warranty
No Annual calibration required (integrated into the workflow of the hardware)
Automatic & manual registration, refinement and reporting from the tablet
In-field documentation
Compare model and scan data in the field
Surface analysis tools for horizontal or vertical surfaces
Lightweight and agile
Export: TDX, TZF, E57, PTX, RCP, LAS & POD files
How is Trimble X7 Self-Leveling Different from Other Scanners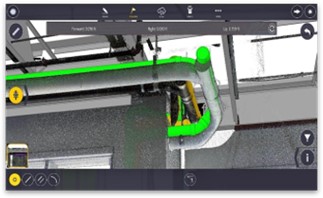 The Trimble X7 self-leveling technology provides both full automation for quick setup and survey-grade accuracy, a performance combination not found in other systems. The scanner achieves survey-grade tilt compensation if the instrument is setup within a working range up to 10° from either side of its vertical axis for upright and upside-down scans. Other scanners either can't achieve survey-grade accuracy or must be manually leveled within a working range of less than 1 or 2° to achieve survey-grade accuracy, requiring more expertise and time in the field.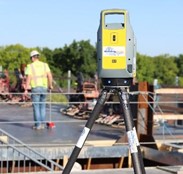 What's unique about the Trimble X7 integrated camera system?
The X7 integrates three cameras aligned to the mirror assembly, each with a specific field of view to enable faster and more productive image capture than systems with a single camera. The operator may capture 15 images in 1 minute or 30 images in 2 minutes for scan colorization and high-quality panoramas. The scanner can apply white balance corrections for indoor and outdoor settings, or the Perspective field software can automatically apply corrections when lighting conditions vary. There is also an HDR option to achieve a higher range of luminance in extremely dark or bright environments.
Want to Learn More about the Trimble X7?
For detailed information about the unique design and technical innovations of the Trimble X7, download the complete white paper from Trimble.